Detroit, Cleveland, Cincinnati, St. Louis, Kansas City, Field of The Dreams, and Milwaukee
Comerica Park (Detroit Tigers): 7.5
I flew into Detroit and took in a Tigers game on a Friday night. Let's just say that the bar was set pretty high for the first night. Our tickets were club level, in an area that warranted a hand stamp, where we were in the first row on the 3B side. Did I mention the buffet? Because it rocked. Upon receiving my handstamp (a tiger claw, no less) I found the most extensive array of baseball food ever. There were quality brats, hotdogs and the like…a large crockpot of chili and cheese and fruit platters and desserts, oh were there desserts! It was a ridiculous spread. A ridiculously delicious spread. There were things like mushroom couscous, freshly rolled sushi and ratatouille, which isn't just Disney movie! these rather gourmet items went away in the 5th inning, only to be replaced by pizzas. It was a baseball fan's dream meal. I opted for chili cheese nachos. This was only because the New York Times' recommended gyro didn't excite me. (The NYT recently wrote up what not to miss when dining at all the major league yards. They also included what to avoid and the article has since become my dining bible.) And did I mention the free beverages?
Bet you wish you were here.
Following the fireworks show post-Orioles'-victory-slash-Tigers'-loss, it was back to the hotel because we had an early wake up call in order to make it to the Motown Hall of Fame Museum and make a 3:55 first pitch in Cleveland.
Motown was of course, preceded by a visit to the old Tiger's Stadium, which I can't believe they are just tearing down. I hope they put a sign up or something commemorating the site. For crapsakes, Ty Cobb and Hank Greenberg played there! Someone memorialize it!
My final rating for Comerica is a 7.5; the outside rocked, with lots of greats photo ops, the atmosphere inside was pretty good and it had some good walking around feel, but it's lacking that truly classic element, a là Fenway or Wrigley so it can't be closer to the top.
Progressive Field (Cleveland Indians): 5
Cleveland was at 3:55 first pitch and it was warm. Luckily the NYT recommends the Strickland's Frozen Custard vanilla cone as the "can't miss" at Progressive Field.
Cleveland's yard left a little to be desired. We ranked it about a 5. There wasn't much to the outside and it wasn't the best walking around park. And though it doesn't weigh into the rankings at all, I did highly enjoy having my picture taken with Torii Hunter:
The best part is the sign in the back reads: 'We respect the privacy of all guests and request no autographs please. Well, I didn't ask for an autograph, I asked for a picture. I'm such a rebel.
Great American Ball Park (Cincinnati Reds): High 7/Low 8
I don't know why I did it, but I definitely wore a green shirt to a Reds game. Hmm… Cincinnati was our first day game–the Reds were taking on the St. Louis Cardinals at 1:15 at Great American Ballpark. Both teams' dominant color was red; making my green shirt choice more puzzling.
So before I get any further, I have to give a shout out to KK Delight for recommending Skyline Chili. What we didn't know beforehand was that, was that the NYT had recommended something called a cheese coney. Cheese coneys freakin' rock. It's a Colleen-sized chili dog, but with Skyline Chili! The best of both worlds! I had me one of those and it was delicious!
So back to the yard. Cincinnati was by far the leading stadium on the trip to that point (ahead of Detroit and Cleveland). First of all, I was all jacked up because our tickets were (almost) directly behind homeplate, just a hair to the third base side. I was right in line with Albert Pujols when he stood in the on deck circle. And good news, his thighs are still as big as my torso. And I may be short, but I'm disproportionate as well.
The outside entry wasn't as grandeur as I might have hoped, (I think they may have had only one entrance?) It wasn't the type of ballpark where you walk all the way around. But once in the ballpark, they had plenty of space to walk around. And bonus points for the aforementioned space being wiiiiiiide. No dodging other people or strollers or what have you. The signage inside was also very cool. Throwback concession signs added to the atmosphere.
Then they have a large mock boat in center field with seats and viewing areas. Way cool.
They have the Red Head Club for little kids and before the game, they had nine kids each take the field, after announcing them on the PA system and showing them on the jumbo tron, and when the Reds came out, they signed a ball for the kid at their position then the kids ran off. It was adorable.
See how family-friendly it was? I got to be on a baseball card with some studly Reds from yesteryear. Never mind I had to let a 3 year old go before me. And that I had to lift her up because she was too small to reach.
We walked around a bit during the game and the only bad seat, that I could figure, was in right field, because your view of left field action was obscured by the Pepsi Power Stacks, which blew after a homerun. That's kinda a bummer. But the view behind the outfield was amazing. Right on the river, the backdrop was incredible.
And did I mention how friendly the ushers were?
The Reds won the game, which was also out first victory of the trip. So in conclusion, I would give Cincy's yard a high 7 or low 8.
Busch Stadium (St. Louis Cardinals): Low 8
From Cincinnati, it was onto St. Louis. It was a 7:05 start on Wednesday night and the Cards were playing the Pirates. We walked over from the hotel and this is what I saw first:
And of course, we all know I'm a sucker for historical baseball memorabilia and the like so I naturally had to have my picture taken with the statues of the Hall of Famers.
I like Rogers Hornsby, for reasons other than he is one of the greatest right-handed hitters to have played the game, because this was his take on the game:
"Any ballplayer that don't sign autographs for little kids ain't an American. He's a communist."
"I don't want to play golf. When I hit a ball, I want someone else to go chase it."
Once inside, the view from our seats was pretty dang spectacular. Check out this view towards left-center field.
And did I mention that it rained in St. Louis while at the game? It was more like a heavy mist, but everyone scattered nonetheless. They were clearly not gamers.
I would give St. Louis a low 8 overall. The atmosphere was pretty good (especially for a Wednesday night game) and they definitely got bonus points for shutting down the concession stands during the playing of the National Anthem, which I thought was cool. Of course, I already had my food so… But the field was beautiful, it had a great view of the Arch, the food was decent (although I didn't try the bratzel, which was the "can't miss" on the NYT list. Something about a brat wrapped in pretzel dough seemed a bit heavy for me. Like an oversized pig-in-a-blanket.) And the deciding factor in the point scale was whether or not I would want to play ball there if I were a major league player and the answer was a definitive yes.
Kansas City followed St. Louis but it currently received an INC because it was under construction and was an ugly concrete mess while I was there. I could have gone to the Oakland Coliseum for a similar experience.
The Field of Dreams (Dyersville, Iowa): Priceless
Upon departing from KC, we wound our way to the Field of the Dreams–now THAT is livin'!
It was quite possibly the highlight of the trip and one of the most fun days of my life. I played in a pick up ballgame at the Field of Dreams movie site in Dyersville, Iowa. On the same freakin' field where they filmed the movie. It was absolutely incredible—damn near a religious experience.
We arrived around 11am and I was already in awe upon pulling up. After doing a quick look around, we grabbed our gloves and played catch in the outside. I caught fly balls in the outfield of the Field of Dreams diamond. Are you kidding me? I can totally cross that one off my list of things to do before I die. The one thing that was immediately apparent was how much I suck now. It's pretty much the most horrifying thing ever. I can't even throw well anymore! When I first picked up the ball, I threw like a girl. A girl?!?! I could barely even hit 'em in the chest. Ugh, simply disgusting. The good news is that I can still catch a fly ball or two.
There was, however, a little incident in which I accidentally smooshed the corn stalks. Like pretty much ripped it out of the ground when I fell going deep for a fly ball over my head (pretty much I ran into the wall with zero regard for my own personal safety—ha!) Check out these sequential shots. Awesome. Simply awesome.
Then the magic happened. We just started a pick up game. I don't even know how it happened really. Someone wanted to hit, so we all started shagging and before you know it, we're playing. Incredible. It was the most awesome thing ever. Little boys and men and even another woman at one point (and thank goodness she didn't throw like a girl!)
As a side note, I was on deck when she was hitting and her son, about 5 or 6 years old, was standing next to me watching her hit (and hit well). I looked at the boy and said "geez, you're mom sure is good!" He turned and looked me and said solemnly, "I know. She played t-ball."
It might have been the best answer ever.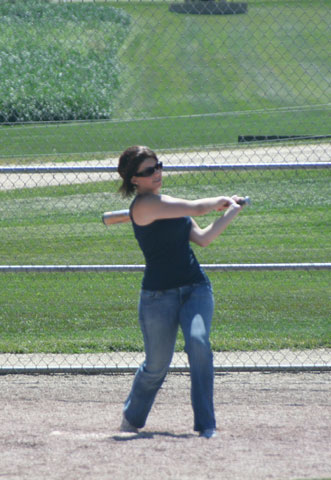 It was an absolutely incredible day. A pick-up game at the Field of Dreams. I can't even put it into words. It felt so incredible to run around on the field and the weather was a perfect balance of sun and breeze and you have fans watching and…… I could go on forever about how amazing it was. Go. Immediately if not sooner.
Miller Park (Milwaukee Brewers): High 8
Saturday night (post Field of Dreams euphoria) we headed to Milwaukee for a Brewers game. I had been looking forward to this park the most and it didn't disappoint. Tickets were sold out for the Saturday night game (as it should be) and right when we pulled into the parking lot you could feel the baseball vibe. It could have been the wonderful smell of the charcoal grills going that set the tone but immediately on entry, the atmosphere was set. These fans know how to watch a game. They are all in their colors and rooting and cheering…it was as baseball on a Saturday should be.
And of course, they had the Miller Park Sausages running around before the game.
And while we found tickets outside the stadium that weren't being used, they were in the last row of the loge section and were covered so you couldn't see the outfield jumbotron which seriously bummed me out. I would have to give Miller Park a high 8. The atmosphere is really what sets the tone for me. The only thing keeping it from a 9 is that obstructed view in the loge level where our tickets were. Luckily, we swooped in on some seats that were unoccupied. These seats were on the same level but in the first row and ended up being probably the best seats of the entire trip. I was on the first base side of homeplate but even with the dish, in line with the 3B line.
Can you say phenomenal??
And of course, the traditional racing of the sausages in the middle of the 6th inning: