Friday was spent traveling to Memphis. I haven't ever been to Memphis, and aside from the cold, it wasn't half-bad. And by cold, I mean the same 44 degree temperature it has been here in the boot.
Before I left, everyone was talking about Rendezvous BBQ joint. It was considered the place to be in Memphis. And it was near Beale Street which was considered to be the hang out of all hangouts that aren't on Bourbon Street.
So post-landing, I changed out of my very adult travel outfit and proceeded to kick myself repeatedly for forgetting to bring my black peacoat that was recently UPSed to my door from the left coast. But then I got dressed for a night on the town. And apparently the town revolves around Beale St.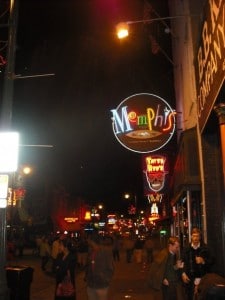 As we rounded up the troops, we loaded into the car and headed to Rendezvous for some Memphis BBQ.
We arrived to a full house around 6:30. Now, I fully understand that it was 6:30 on a Friday night at the place to eat in Memphis. But we waited two hours to be seated. TWO HOURS…seriously!?!
And the best part is they have plenty of table space in the waiting area. It's actually a two-story place, where the dining area is downstairs and the waiting area is at street level. And there is "balcony" seating overlooking the waiting area. There is plenty of room where they could have been serving people. Namely Jason P, party o' 7. They called for parties of two. They called for parties of 13. But no parties of 7. We were dying. We were taking bets to see who would eat the peppers that someone else who was waiting before us left behind. Come to think of it, I don't know how they had a pepper there because they were serving food to the waiting area. Those people must have been smart and brought rations, knowing the wait time.
Finally, 90 minutes and a soda later (water and beer were the only other options and I wasn't in the mood for a beer), I went down to the hostess stand to see how it was looking. Since she'd told us the wait was about an hour, which had passed 30 minutes ago. She informed me it would be about another 25 minutes. Not awesome. I was ready to chew my hand off.
I marched back to the crew, dismayed and relayed the news. We quickly began passing the time with jokes about how freakin' phenomenal these ribs must be.
Finally, we heard the name called of the group who was only a few ahead of us. We all grew silent as we waited with bated breath. Seriously, it was that intense. Then, two hours after putting our names down, the intercom announced: Jason P, party of 7.
We erupted like nothing you'd ever heard before. Cheers and fist pumps and maybe even a 'yahtzee' were cried out in joy.
People in the waiting area were all silent as they watched us speed walk through the crowd, excited at the prospect of food at 8:30 at night. I may have broken into a jog as the hostess got on the intercom and called us again. If she even thought of giving up our table, I might have used a move or two I picked up while flipping past the UFC fights.
We sat down and before the waiter even asked for our drink orders, Big Rob stepped up and informed him we were ready to order. And around the table we went and our orders were placed in record time. We didn't even have waters yet. It was phenomenal.
Of course, because I'm weird and don't feel like I can enjoy ribs in public, I ordered brisket with the promise from Bean that she would trade her ribs for some brisket so we could go halvsies.
While everyone loved the food, I didn't think it was worth the 2-hour wait. And hour, sure. I would do that. I mean, afterall, they didn't suck! But I just wasn't that impressed that I would wait two hours. On the flip side, they served us right away and got us our order very quickly, which was good because I was contemplating mixing together the salt, pepper and BBQ sauce into a paste and sucking it down with a straw.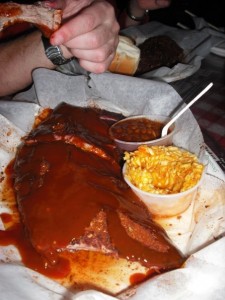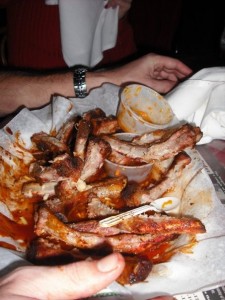 We did a number on that food but we couldn't hold a candle to Pat, who was putting down groceries while there. It was awesome. Truly spectacular.
After we paid our bill, we met up with some other people in our travel group at BB King's.
They had a live band going and some awesome dancing ensued. Not by us, mind you, but by some very special individuals. There was the older lady, who may or may not have been rivaling my grandmother in age who chose to dance not like any grandmother I have seen!
There was also a man who at the time, we thought looked like Hank Williams, but upon further review, we have determined that he was more of a George Carlin look alike, but that didn't stop us from calling him Hank all night. Until his daughter, who was watching him shake his tailfeathers in horror, informed us that his name was Ronnie.
I lied. A few of us did dance. Still impressed that Big Rob and Donna knew these steps.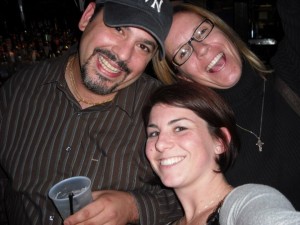 So the general consensus was that Rendezvous was the absolute real deal for ribs (I'm in the minority) but I think we all agreed that BB King's was awesome people watching and a good time.