I went to my first Saints game today and got to see the Saints win 29-25 in the Superdome! And had a total blast. It's safe to say that I never had followed an NFL team religiously before but people in the boot take their New Orleans Saints football very seriously, so I donned a black t-shirt with a gold fleur-de-lis that I had received from my former boss at the winery. Since B-Dub, as he shall be called, grew up in New Orleans, he knew what I needed to fit in!
I had been given a couple tickets so I asked My Favorite Florida Gator Fan to come with. He agreed and we arrived at the Dome around 11am for a noon kickoff. As we parked (kudos to my favorite Gator Fan for knowing where to park for free a coo, I think, for a major sporting event, such as the Saints game) we passed all the fellow Saints fans who were enjoying massive amounts of food. I was immediately impressed with the tailgating efforts. I have learned that they take food very seriously as well. And I can appreciate that.
So it was no surprise that we headed to find something to eat once we were inside. And find food we did. We each indulged in a 20-pound (ok, maybe not really 20 pounds but it was definitely bioengineer-sized) baked potato that came complete with the following toppings:
butter
sour cream
cheese
chives
bacon bits
shredded brisket and topped with bbq sauce
It was also delicious-flavored.
Following stuffing myself to capacity, we headed to our seats which were in the end zone on the first level and pretty darn good. Being in row 36, we didn't have to worry about the people behind us and I sat next to the cutest little old lady who was the best fan. She was screaming right along with everyone else.
She also made me giggle when she announced that she considered the man who dresses up and dances at the end of the 3rd quarter as 'ugly' which I couldn't really contest since he was dressed as Santa from the waist up and a 'SaintsSation' cheerleader with a metallic gold cheerleader skirt from the waist down. She did have a point, he was not attractive in the skirt but he did have some sweet moves!
This cute little old Saints fan had also never seen a two-point conversion attempt before and was very nervous that the failed attempt meant the Saints would lose all the points scored during the drive. I hope my husband takes me on dates to football games when I'm old(er).
After the failed PAT attempt, the Saints were only up 22-17 towards the beginning of the fourth quarter. Naturally, the Falcons scored because Atlanta quarterback Matt Ryan had all the time in the world and his pick of receivers. Then they did convert the 2-point PAT so they were up 25-22 with 8 minutes or so left. Some of the energy was sucked right out of the Dome after that. (Although, unfortunately for my favorite Gator fan, the loud and slightly intoxicated girl next to him didn't miss a beat and continued to vocalize her support for 'her boys'.)
But lucky for us and by us, I mean the Saints and their fans Reggie Bush is a stud and he returned the kickoff right into the redzone and the Saints were about 15 yards out. They put it in the end zone on the drive and the PAT kick was good– thus, the final 29-25.
It was at this point that I heard the following:
Who dat say dey gonna beat dem Saints?
Who dat? (Who dat)
Who dat say dey gonna beat dem Saints?
Who dat? (Who dat)
Who dat say dey gonna beat dem Saints?
Who dat? (Who dat)
Who dat say dey gonna beat dem Saints?
If you have never heard this, it sounds a little something like:

It was such a good time. I just kept smiling the whole time, enjoying the whole afternoon. And it was also kinda neat not to freeze like one might at Candlestick. I'm just sayin… But it truly was a fun atmosphere…I enjoyed all my company and I can't wait to go back!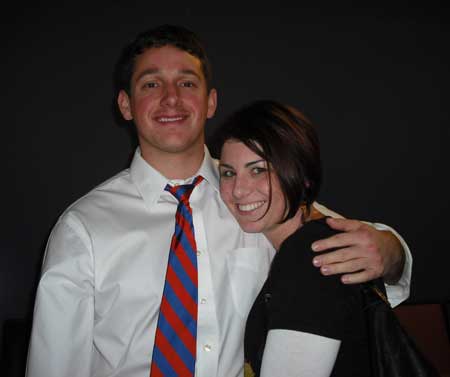 Other items of note: during the excitement of the 4th quarter drive, someone managed to steal the purse of the lady sitting on the other side of the cute older couple. Who does that? I mean honestly. We're all there, having an enjoyable time, relishing in the fact that the Saints offense was carrying the load and some jerkface reaches under the seat in front of him and takes a purse, knowing no one will see since they are excited that the Saints scored. That is some seriously bad karma.
I, on the other hand, am no longer feeling like a jinx at the Superdome, since today was the first win I had seen there. Woot woot!