Talk about a whirlwind weekend! There was definitely not a moment spared while I was in town. Since we already recapped Thursday, let's do a quick run down (we all know I'm much too long-winded for a quick recap) of the remaining weekend days.
Friday: I woke up early to meet Amanda (the bride-to-be) and Aleah to get our toes and nails done for the wedding. I should first share an Amanda-Colleen story. When we were sophomores in high school, we both invited boys to the Turnabout Dance. It was the high school version of a winter formal in a sadie hawkins format. Amanda had asked her boyfriend at the time (now hubby!) and I asked Bobby. Bobby was pretty much my other brother but he made for a good date so it worked out.
The dance was just after Valentine's Day and I found this adorable (although very early late 90s/early 2000s) red ankle-length dress with spaghetti straps and a black lace overlay. I was feeling quite lovely in said dress. We had all planned to meet at my house before the dance and my mom was cooking dinner for us at Molly's Country Kitchen since we couldn't even drive yet (!!)
You can imagine my surprise when Amanda, who had shopped separately for her dress, showed up in the exact.same.one. Only in blue. We had a good laugh about it and I was declared the shopping winner since my dress was cheaper because it was red and it was post-Valentine's Day.
Ok. Back to Friday. So I haven't seen Amanda in months. Like, over a year. That is a very long time for us to go without a Target trip people. But as I sat chatting with her mom at the Pro Nails, waiting for her and Aleah, imagine my shock and immediately laughter when she came in wearing the exact same shirt I had on. And this wasn't just any shirt. It's not like it was a white t-shirt and jeans uniform or something. See the below:
What are the odds? Only this time, it was Amanda who was declared the shopping winner since she bought hers at a thrift store for a steal of a deal while I only found mine on clearance. Ha!
At any rate, we had a good morning of pampering, thus the pic of some of the content ladies:
Following my mani-pedi, I met up with my girls (and guy–way to hang in there JHart) from the winery and had lunch at one of my favorite places ever: Taqueria Rosita! It was everything I had hoped for and more in a burrito form. sigh.
Then I quickly ran to a hair appointment and got ready for Amanda and Ben's rehearsal dinner, followed by (wait for it…) Friday night football at Memorial!!! Yay!!!!
Oh man do I miss it. I even miss the confetti that is thrown without care after every touchdown Napa scores (almost 🙂 )
The culprits of the confetti are the daughters of the head coach (and yes, that white stuff in my hair is definitely confetti. Peyton and Kennedie had to make up for lost time):
I was also excited to get to see Charles play, who is also like an extended brother, since his mom Cindy is pretty much a big sister/aunt to me. Much like his older brother (who is John, the reason I proudly don my Oregon fleece), Charles is all over the football field doing everything and doin' it well. Did I mention it was throwback jersey night since Napa High was honoring the 1959 team that went undefeated? Check out these sweet jerseys: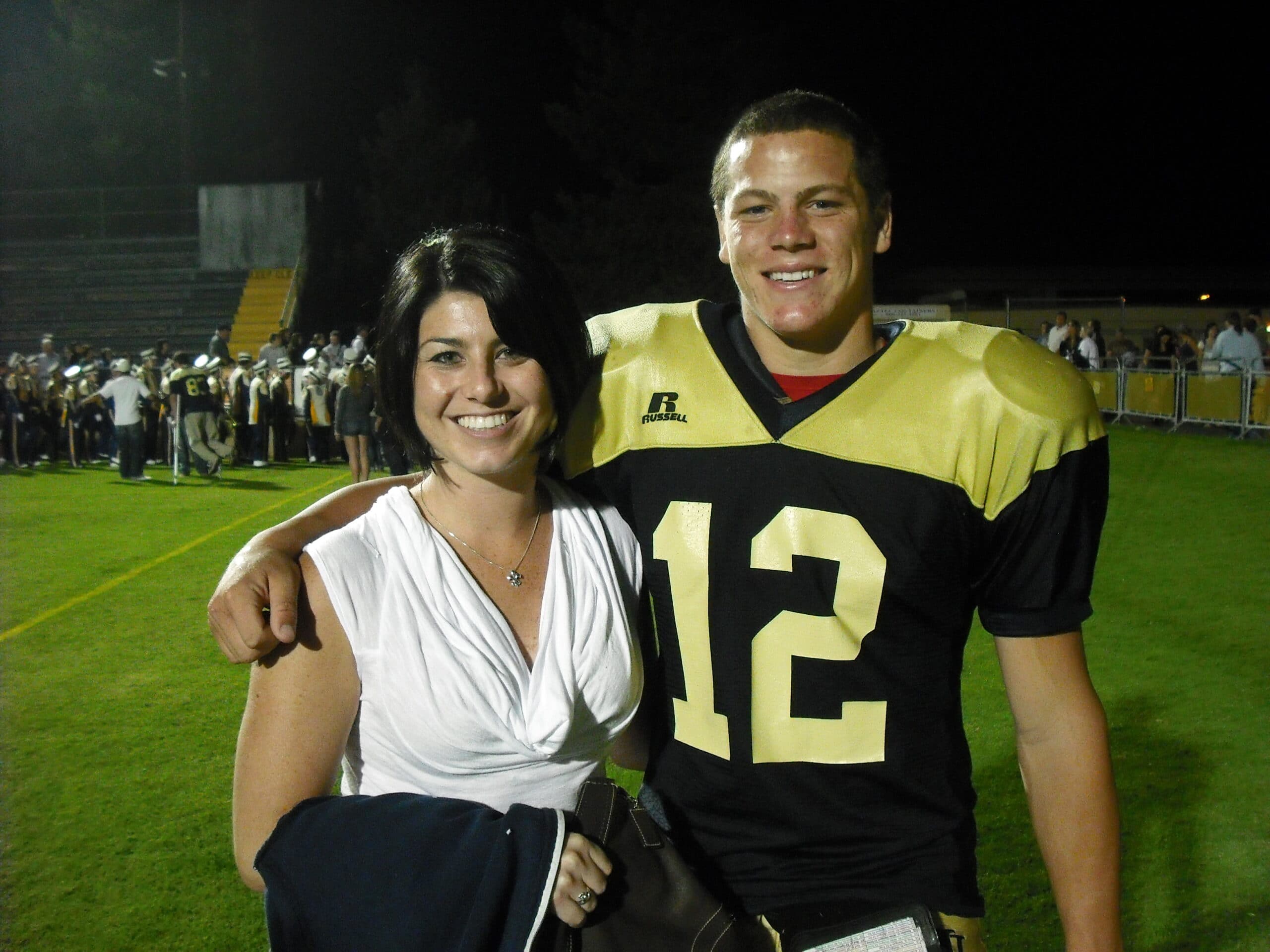 Friday was a FULL day but I'm glad I packed it all in…
Saturday's recap will follow shortly but I have to board a plan back to New Orleans because quite frankly, an hour in Houston is all I can take at this hour of the morning. No offense to Houston, I just REALLY REALLY want to be in my own place since I had the pleasure of seeing the sun rise this lovely Monday morning.