One of the things that I told myself upon moving back to CA was that I needed to take advantage of day trips and the fact that pretty much 2 hours in any which direction will take me to the mountains, the ocean, the forest or the desert. Not that I plan on going to the latter 2 but hey, it's good to know I have options.
Since my parents were beach-bound Wednesday night, and I had Saturday and Sunday off, I joined them.
A little known fact is, that while I was born and raised in Napa, I actually lived in Santa Cruz (technically Scotts Valley but at the time, it wasn't even a big enough town to have a high school) for about 18 months. Apparently that is the magical amount of time I can live away from this town.
We moved South when I was half-way through my 4th grade school year. This happened to also be the same year I got glasses. Glasses and braces and a new school. I like to call that the nerd-trifeca.
4th grade wasn't bad since I got to Scotts Valley in time for softball season and I could at least hold my own on the field so that deflected from the fact that my glasses were the size of saucers and practically took up all of my face. 5th grade was even better because by that time I had made friends and it also happened to be the year that I hit my first (and only) grandslam. I think I also had my first "boyfriend" in 5th grade but all that meant was that he was under obligation to pick me for his team in kickball. But, it also happened that his family was part of the circle of friends my family made while in Santa Cruz. We would plan summer picnics at the beach and we would all pack our boogey boards and lunch and meet at the beach. Summers were good in Santa Cruz. We moved back to Napa right before 6th grade started but went back to visit during the summers for a while after moving.
Then my mom's college friend offered to let us stay in her beach house down there, which was literally on the beach…we're talking, 'good morning ocean' right-on-the-beach. That became our summer retreat but as we got older, we didn't frequent Santa Cruz much. Summer baseball took up most of our time. But now as an adult (a term I use loosely, since I'm still under my father's roof) there is no more summer baseball in which I'm having to play/attend.
So, right. My mini-break. My parents left for the beach house on Wednesday night and I met up with them Saturday afternoon, making the 2-hour drive with my laptop and verizon internet card in the passenger seat so I could listen to the Mets game until the the wheels fell off Johan Santana's wagon and the Phillies broke it open in the 4th, at which point I went back to the radio to listen to the Giants game and to hear Kuip and Dave Flemming rag on Kruk, a new iPad owner. I LOLed.
I arrived around 3 or so and my mom and her friend were holding down the fort while my dad got a quick round of golf in. We lounged and enjoyed adult beverages while my mom's friend went totally gourmet and whipped up some snacks. And by snacks I mean homemade potato chips with creme fraîche and caviar. No big deal. Just another day at the beach.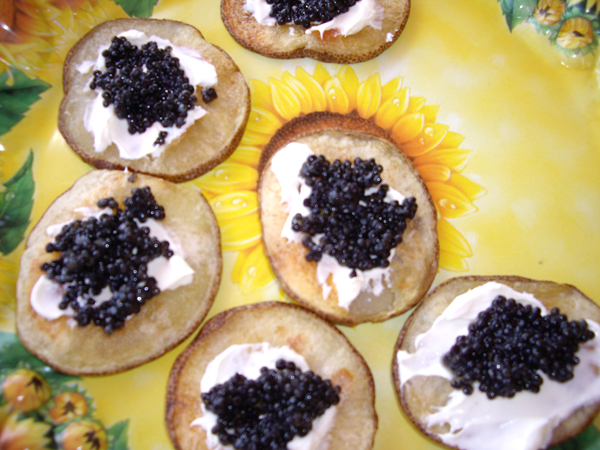 I actually had never tried caviar before and I was pleasantly surprised to find out I liked it! The creme fraîche really complements the flavor of the caviar. Doesn't that last sentence sound so fancy, like I know what I'm talking about? I totally don't, but it tasted good when I ate it so I will attribute it to the flavor combos.
We enjoyed much food and drink and I made a valiant attempt to tan, so score one more for me. We followed the potato chips with homemade bruschetta, ribs, spiced sausages and some type of trout on a cucumber that was really good with a little shot of cayenne pepper on the top.
I didn't go hungry on this trip.
We were joined by the brother of our hostess and his wife and we all enjoyed the appetizers on the patio with the beach as our backdrop. After we had eeked out every possibly bit of sunshine from the day, we moved inside and had an amazing dinner of homemade cannelloni with salmon and steaks in a morel mushroom sauce with good wine (always) and homemade mini cheesecakes for dessert. You know, just a little something whipped up while the other stuff was cooking. It was so delicious.
AND I learned how to make a roux, which I am really excited about. I could totally make homemade cannelloni now and I'm not even Italian.
Point Colleen.
It was such a nice, relaxing evening at the beach. And I got to lay out in the sun which finally made an appearance this season.
Sunday wasn't a bad gig either. While it was a little foggy, it burned off to reveal this:
Certainly not a bad view, right? After a relaxing morning sipping coffee in our house, we went next door where my mom and her friend set up our "brunch" which was the fanciest spread of leftovers I have ever seen. We had brie with a cherry-port reduction sauce, champagne, fruit, pasta salads, really good deli meats, gourmet olives, sandcastle cake and bruschetta. Delish.
Then we soaked up more sun until it was time to leave. I'm also pleased to announce that my legs, while still fair, will no longer offend. And sunglasses, although recommended, are no longer required to combat the glare off of said legs. That right there makes this a successful trip.
It was exactly what I had in mind when I told myself I needed to make more day/weekend trips. Thankfully, we have a someone who is nice enough to offer the use of a beach house to turn a day trip into a weekend getaway.
Now I need to go exercise away all the delicious food I ate.