With all the wedding activity that immediately followed my mid-week birthday, I didn't have a chance to recap the fact that I'm 29.
Yes, I'm 29. Next year will be 30. Next year I'll have a party or something. 29 just seems like a non-event in comparison.
Since it was a Tuesday (read: a work day) and of course because of Murphy's Law, it was the busiest work day I had had in a long while. Phones ringing off the hook, meetings galore…you get the picture.
Dave took me out to dinner at a new restaurant neither of us had tried…Brassica is the new Cindy Pawlcyn place that features Mediterranean-inspired dishes (it used to be Go Fish, which had an awesome lobster mac-n-cheese).
It wasn't bad; I had braised beef and Dave had the roasted chicken. All was tasty and the portions were ridiculously large. We enjoyed dessert, which was something that looked like flan when it was served but had the consistency of creme brulee. It was delicious and mocha-y and cinnamon-y…yum!
We asked the server to take our photo but she accidentally took a video; here is the screen capture of that since the video looks similar, only with Dave and I smiling, asking each other through gritted, smiley teeth if we thought she had taken the photo yet. 🙂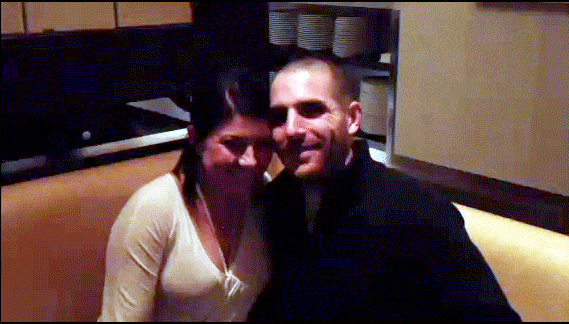 Dave knew that the weekend coming (wedding weekend) would be far too busy to continue the celebration, so being the thoughtful one that he is, he booked my birthday present– a massage at The Meritage Resort in Napa– for this past Saturday. The day turned into a one where we played tourist, doing all things Napa Valley and taking advantage of the things that we never get to do despite living here.
The massage, to start, was flippin fantastic.
Because he is a smarty, Dave booked it for 11 so I could sleep in, then informed me that I had access to their spa, jacuzzi, steam room, etc. for the rest of the day if I was so inclined. I thought that sounded good but I haven't ever done anything like that so I wasn't sure what to expect.
The massage itself was an hour and it was so relaxing. Following that luxury, I helped myself to some lemon-water and hung out in the steam room for a bit. My skin felt amazing and so clean. 2 hours later, I was showered and felt so rejuvenated that I debated putting make up on because my skin actually felt like it looked good enough to forgo. Then I thought it was probably the fancy spa lighting and I dabbled a little bit on for good measure. Good thing too, because we went out to lunch at Fremont Dinner afterwards, which meant being seen in public, something for which I prefer to be wearing make up so as not to look like I just rolled out of bed.
It was such a gorgeous day, we decided to cap off our afternoon with some wine tasting at Artesa since I had never been and the views were amazing, especially on a clear day. It is down in Carneros and so high above the valley floor you can see for miles. I had no idea!
It was such a relaxing morning/afternoon…