Since Dave had a long weekend last weekend, we had planned to try and take some day trips. Sadly, the rains on Saturday and Sunday had other plans, but we did luck out on Monday, when we decided to head to Carcassonne, about a 2 hour train ride away.
Carcassonne is basically like two cities in one. The lower city, the ville basse is similar to the limited French city life to which I've been exposed: narrow streets only wide enough for one Urkel-style car, with tall, beautifully-old stone buildings indicating the next closest brasserie or cafe, all flanking les rues. It really is beautiful, but it's also such a similar style to the other cities I have visited in the South of France.
But…
A bit father up from the gare (the train station), is Carcassonne's upper (original) city, literally the fortified Cité de Carcassonne. We spent a good portion of the afternoon (we arrived right around lunch time) exploring the castle and its surrounding village.
This is what we saw as we approached from the lower city: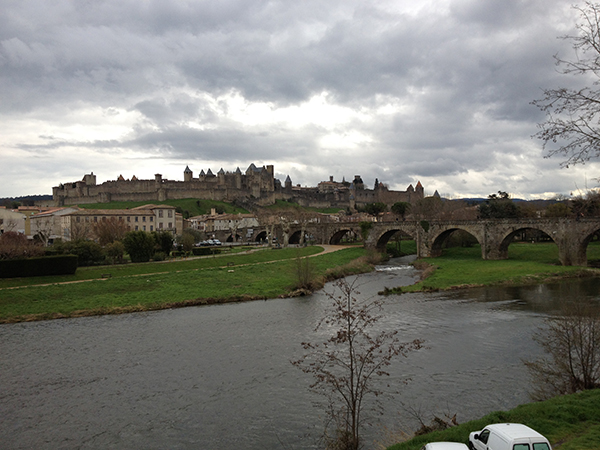 The village itself was a bit like Disneyland, which we had expected from our pre-trip research. Each shop is selling some sort of knick-knack, like jars of the signature dish "cassoulet" or anything medieval (my personal favorite was knight and princess costumes but Dave much preferred the wooden toy catapult that looked like it really could shoot a pebble boulder across a moat and over the castle walls.
When we arrived, (after we crossed what was presumably the draw bridge, of course) we found a cute place to have lunch. The options were actually quite plentiful…if you wanted pizza or cassoulet. We found a cozy restaurant that had items on the menu that I could decipher and enjoyed a 3-course (it's pretty standard to have a three course lunch…so when in Rome, er, France…) Sadly, my beef entree, which is actually my 'plat' in French (because my first course is actually the entree) was like gnawing on a baseball mitt. Luckily I enjoyed my salad to begin, some of Dave's duck confit, and of course a bit of both of our desserts (hiking to the top of a fortified city makes one quite hungry).
After lunch, we explored the castle a bit more, which gave us the best vantage points of Carcassonne. And since the weather was so nice and everything was so green, I just kept snapping picture after picture.
Following our castle tour, we wandered around to Basilica of Saint-Nazaire and took a few more photos of the historic church that came complete with the sound of medieval solemn chanting/moaning that haunts you down to the bone when you hear it. Very authentic.
(Apologies in advance for the large gallery)
After we toured the upper city, we slowly made our way back to the Gare to catch our evening train home, but this day trip was certainly a victory. We packed in as much sight-seeing as we could in a small amount of time and felt like we did a pretty good job of doing Carcassonne justice. The trip to castle and the views of the city were worth it entirely. It's so interesting to read about all of the history that went on, right here on this very land. While I've always loved American history, we're incredibly young in comparison to Europe!
For Easter weekend, since Dave has Monday off again, we made a last minute decision to take the train to Paris and get our explore on there. Wish us luck because a three-day weekend in Paris is going to be jam-packed and I'm willing to bet we still won't see it all! But we'll sure give it a try…
Happy Easter!