The third and final full day in Paris was spent wandering around Galleries Lafayette, which is a huge department store (think Macy's on 34th Street in NYC). After a quick breakfast (the standard menu offering is coffee, orange juice, a croissant and toast–I'm all in favor), we attempted to find new shoes for each of us, but the crowds alone instead had us searching for the nearest exit. Plus, we weren't exactly in the market for Prada or Dior.
After meandering in and out of stores, we decided we should probably grab lunch before we went back to the apartment to straighten up before our departure. In our researching of places to go in Paris, Dave had heard of a wine bar which had a wide selection of natural wines, which he wanted to check out. They had charcuterie and such, so we made a light lunch stop before heading back.
Leaving the apartment was a bummer. I really liked that place. It was a one-bedroom but spacious and with a kitchen and living room (and a working oven and counter space)…ah, it was SO nice. I didn't even mind the five flights of stairs we had to walk up and down. Pictures of our lovely place: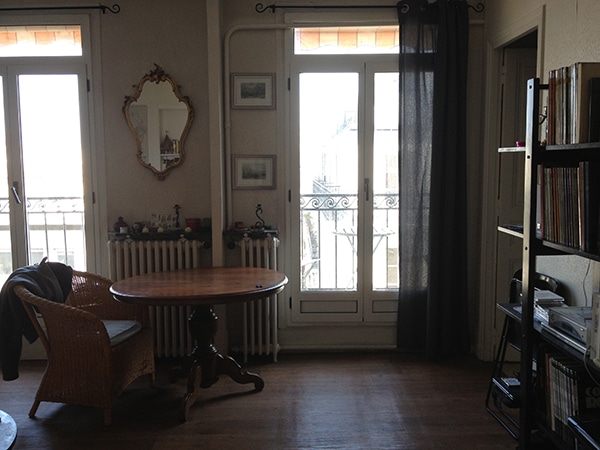 Around 4, we headed to the train station to begin our 3.5-hour journey back to Montpellier. The weather, while cool, was probably the nicest we'd had of the three days we spent in Paris. We were bummed to leave and even more bummed when the train neared Montpellier and we noticed wet streets under the dark night sky. Poetic, really.
Our trip to Paris was wonderful–cold, yet wonderful. If three days were all we got to see Paris, I feel like we did it justice. I'd love to go back and see more of the sights and take a boat ride on the river (in the much warmer seasons) but for now, I'm glad we packed in all that we did.