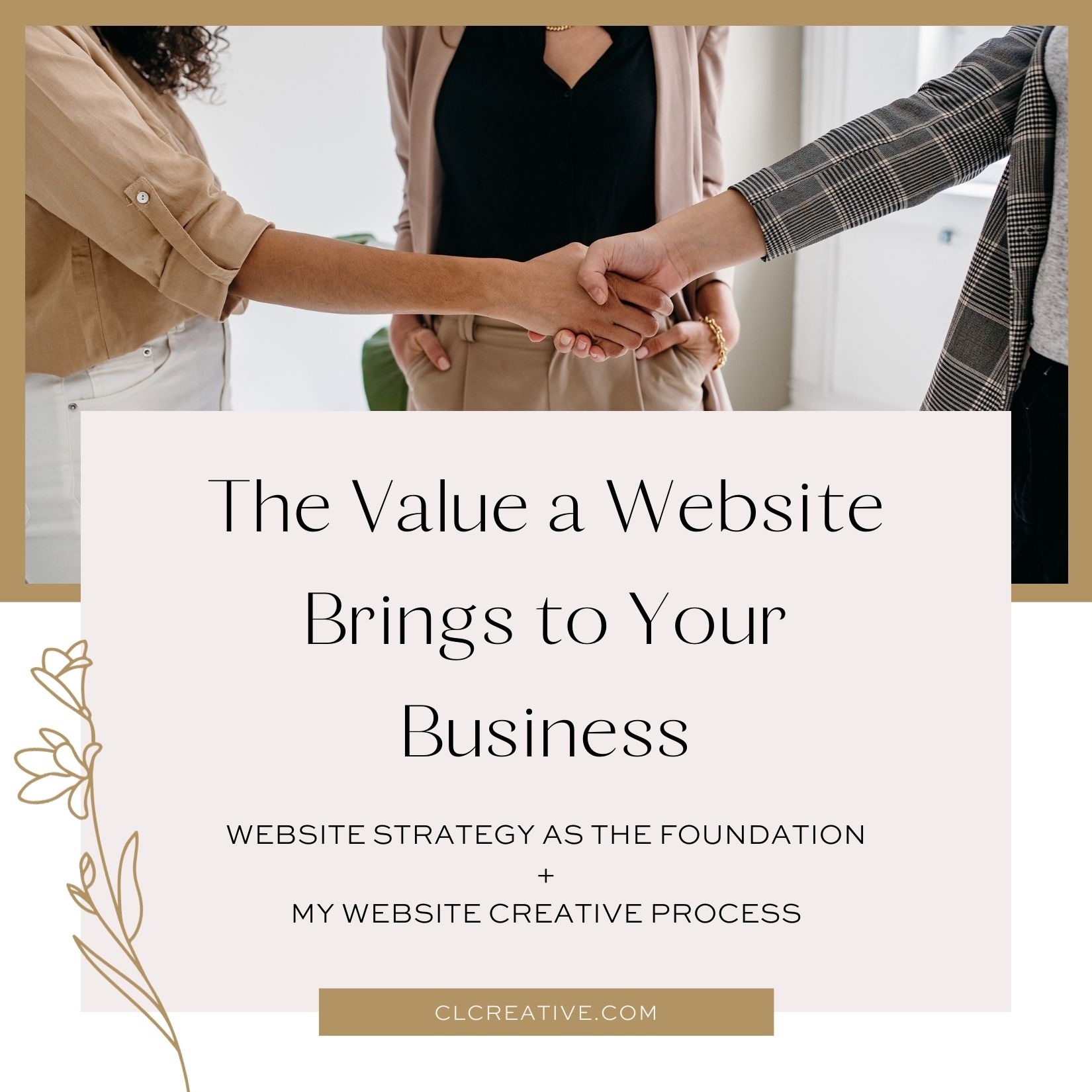 I recently wrote about the value of a website and the vast difference in web design/development pricing but what I didn't hit on was my own pricing and what it's like working with me. This post isn't exactly going to be a services price list. I have learned over the years that no client wants a cookie-cutter site (you can get those on any old template marketplace). Each website has a different set of goals, design guidelines and functionality. This means that each project will be priced differently, according to those individual needs. This is precisely why the value of a website covers a pretty broad spectrum.
Pricing My Website Services
But regardless of pricing, I think the value in working with me is most felt through my ability to solve problems for my clients. I deep-dive into your industry, learning about your goals, current pain points, and perhaps most importantly, what makes your ideal client tick so we can make sure we know how to convert them to customers. Many times the problems I tackle go beyond basic website needs and reach into other digital marketing efforts. By taking a "big picture" view of your business, I can design a website that works for you and remove the barriers to achieving your business goals.
How I Create Value in Your Website
My goal is to provide you with a finished website of which you are proud; one that ultimately grows your business and meets your goals. There is quite a bit of unseen work that goes into achieve that.
My Website Creative Process
As I've honed my craft, I really feel that it's my process that sets me apart. I'm looking to elevate your brand and business through your website, while hitting all the business goals you set forth. This is why my process starts with strategy. This includes deep-dives into:
Goals & Function
Competitor Analysis
Content Planning
Current Site Performance
Site Architecture
Brand Synergies with other Marketing Initiatives
Target User Profile
User Journey
In addition to learning the ins and outs of your business, I also serve as a resource throughout the process. The client experience while working with me is often evident in other marketing efforts such as social media automations or email marketing integrations, but it often goes beyond those. I view your website as one spoke in your marketing wheel. I truly feel this is a partnership and I want to provide valuable insight into other spokes to make your business stronger.
Once we have the foundation, I set out to create a design that differentiates you from the rest. This means that I will create a fully-customized look and feel, where each element will intentionally guide users towards your overall goals. All of the strategy work will lead to a stronger, purposeful design.
Naturally, the next step in the process is the development, where I will take the designs you've approved and code them into an SEO-friendly framework that makes it easy for you to update on the day-to-day. I consider all of the types of content you'll be putting on the website, how it will work in the context of the site and how we can maximize content-data entry. Content that may appear in more than one place should only need to be changed in one place on the back end before showing up in all of those places for the end-user. The code I write is created so that anyone on your team can make the majority of changes without any sort of HTML/code knowledge, ultimately saving outsourcing expenses.
Integrating your website workflow into the code means I'm working to maximize your marketing dollars by increasing efficiencies with a finely-tuned website ready for prime time.
Once all the pieces are in place, we begin the testing-for-launch phase, where I extensively go through each page on various devices and browsers, to see how everything is performing. There are always a few bugs to fix and once we rectify those, we prepare for the launch!
While it may seem like this is the last phase, it's really not. Your website is never "done" or completed– it will eventually need updates to the technology or code. I look to continue our partnership beyond the initial launch, ensuring site performance, optimization and security, to increase the return on your initial investment.
Website Pricing – Rough Estimates
I know what you're thinking. This all sounds great, but really. What's it going to cost me?
Let's talk numbers. Specifically, my numbers. Here's the thing, I want to see your business thrive because of my work. But I also want to pay my bills. For this reason, I try to be flexible and am always willing to discuss various options to see how we can make something happen. My creative side isn't limited to design, so I'm open to different solutions for various financial situations. With that in mind, new website design/dev projects tend to range anywhere from $3,500 to $15,000 depending on size, functionality and other factors. At the end of the day, your business deserves the right designer/developer, so find someone with whom you're comfortable. I know price is important. Previous work and know-how matter a lot, but if you're not comfortable with the person, you definitely won't feel comfortable trusting the value they provide.
Conclusion
Looking at website strategy as part of your larger business goals is the first step to understanding the value a website can bring to your business. Think about how much your investment in a website will grow your business in both tangible (actual products/services sold) and intangible (PR/brand recognition) figures. That will start to get you in the ballpark. From there, trust your instincts, because they are likely what got you to where you are now.
Ready to start your project? Start the conversation