Citi Field (New York Mets): 7
Today was an exciting day. Today, ladies and gentleman, I continued my baseball stadium expedition and visited Citi Field, home to the New York Mets and, more importantly, David Wright. Who is awesome, in case you didn't know.
Jersey J and I took the subway (obvi) and were greeted by this site: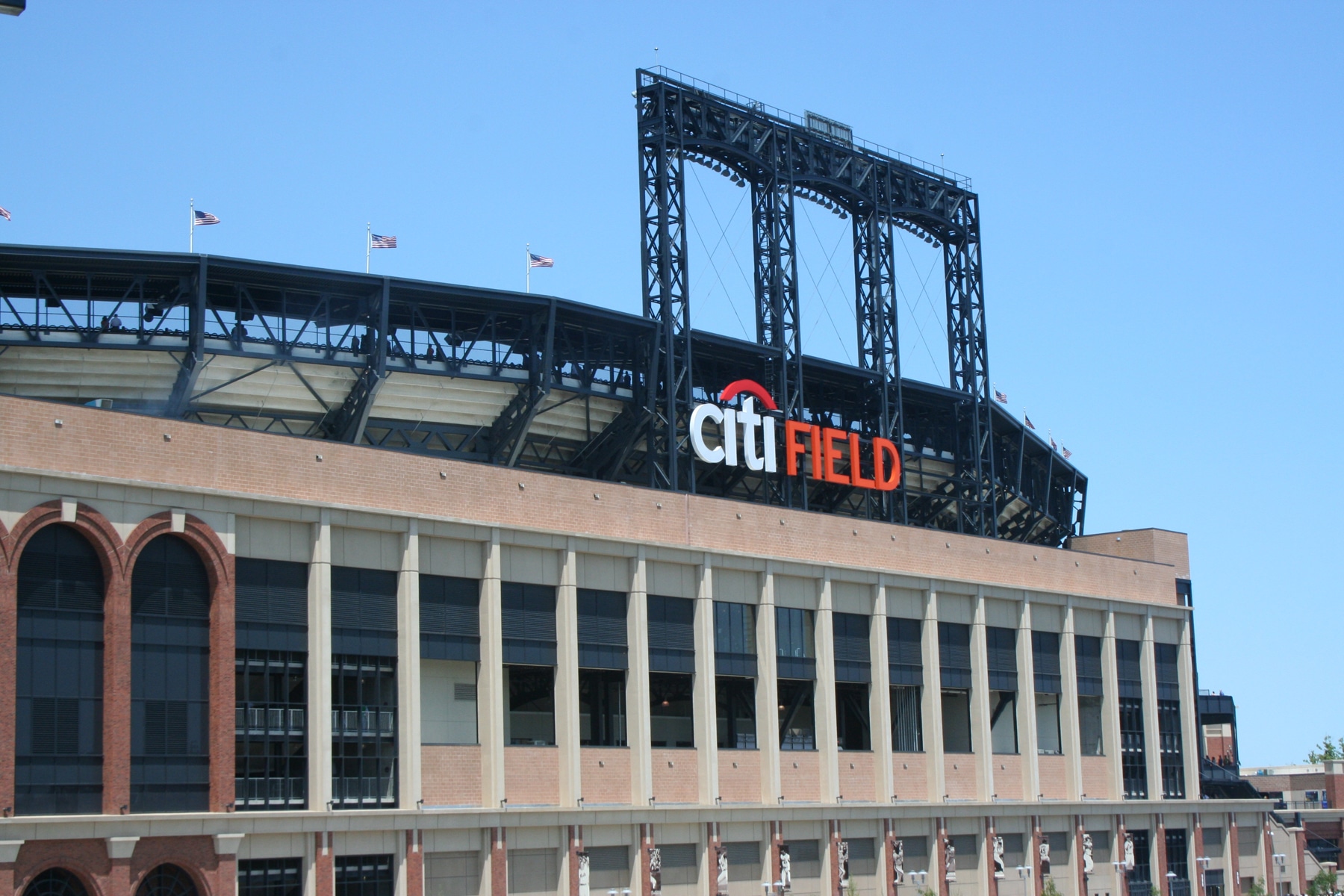 As we walked made our way to the gates, the outside area of Citi Field was a buzz of activity. Including this crowd-pleasing moment: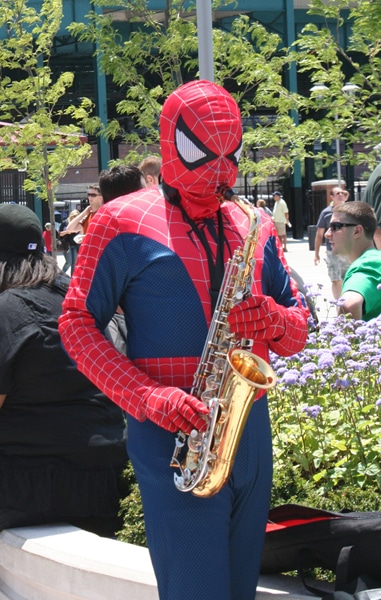 We went to pick up our tickets at will call at about 12:30ish. We met a friendly usher kid, who told us about the kiosks they set up for will call internet sales.
**THIS IS A HUGE TIP AND EARNED CITI FIELD POINTS IN OUR SCORING SYSTEM**
Because it's a new stadium, the lines to pick up tickets/get in looked horrendous. BUT instead of waiting to pick up tickets at will call in the traditional sense, the usher told us to go to these kiosks (think self check-in at the airport) and slide the credit card used to purchase and it will print your tickets and away we went. Score yes.
So we get into the field and per baseball stadium tour tradition, snapped first pitch from the very enjoyable "open-air" concourse.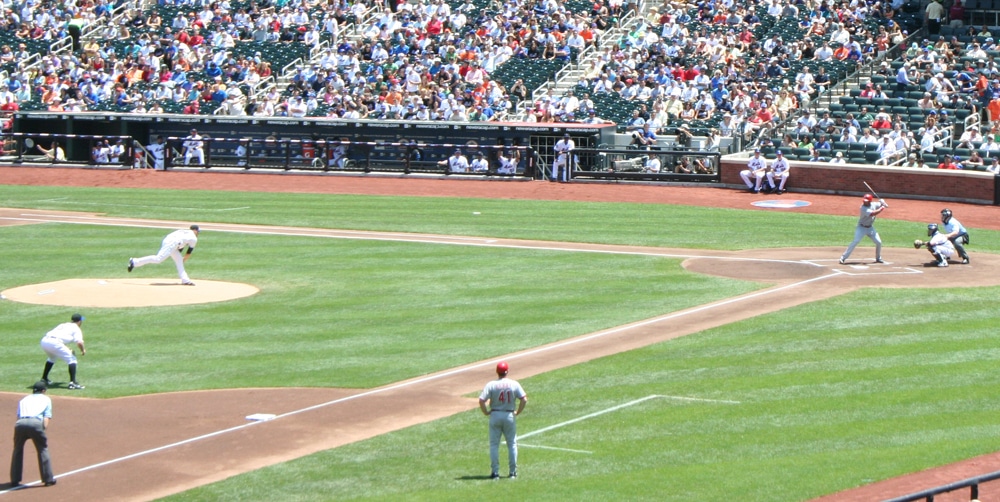 Never will one feel claustrophobic in the concourse. Never is one's view of the field really obstructed while walking around the yard unless it's by a moderately overweight man, guzzling beer and wearing some form of sleeveless shirt and a backwards hat. I'm just sayin. And even then, just kept moving, there is room elsewhere. One downfall might be that, while they have great site lines throughout the ballpark, if you're trying to get directly behind home plate, the view is obstructed by the Ebbet's Club Suites, where the fancy people watch the game. Bummer.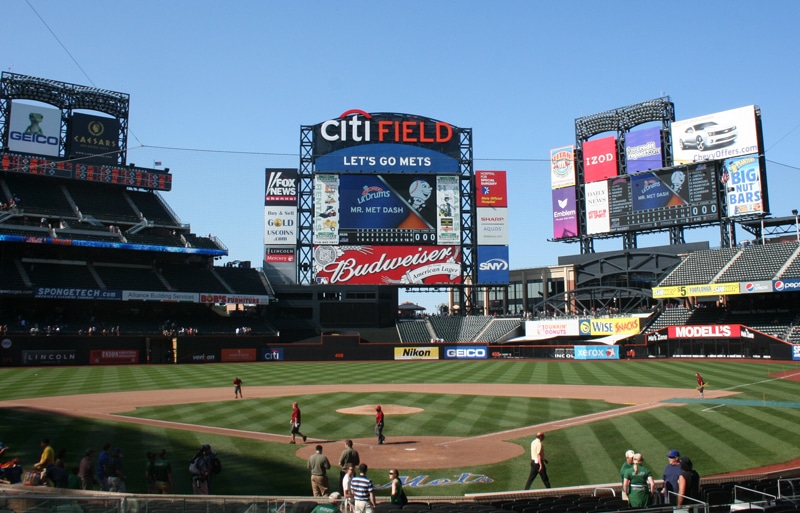 We arrived at our seats in left field, about 20 yards away from Gary Sheffield. The left field and the left side of center field seats are partially covered, thus keeping the hot Queens summer sun off of us for the majority of the game. The sections weren't excessively deep, making movement up and down the stairs easy. Even the last row wasn't terribly far removed from the field. The only foreseeable downfall to our seat was that, because we were so close to the field, any sort of ball hit with warning track power to straightaway center field was a blind spot to us.
Around the 5th inning, we decided to get some lunch. We opted for a pulled pork sandwich at Blue Smoke (yes Mom, I ate pork. Mostly because it wasn't in tenderloin form. Just to clarify.) The sandwich was served with a side of pickle slices and points for these pickles being Clausen pickles because those are the only kind I like. It was served on a good bun and it also scored with us because it wasn't over-sauced. Jersey J was pleased with the Carolina-style BBQ, which is more vinegar based than a Texas-style, which is saucier (read: much easier to eat in public while balancing it on your lap). Minus half a point because Citi Field is a Pepsi ballpark and I'm a coca-cola kinda gal. But the sierra mist wasn't horrible.
They seemingly had plenty of other solid food options, with the Shake Shack (premo burger joint in NYC) next to Blue Smoke but the line was so flippin long, we weren't patient enough for that. They literally had a Disney-style line weaving in front of the stand. We also enjoyed Carvel ice cream, which definitely tasted better served in the Mets helmet. Two helmets are now in my purse. The soft-serve reminded me of Swensen's bubble gum ice cream, sans gumballs. I enjoyed every bit of it, except the drops that went down the front of my shirt. I'm not exactly sure how long I walked around in my blue tank top with white drops of ice cream down the front but a kind-hearted older lady (who, bless her heart, wanted a cup of coffee on our 85+ degree day) made me feel better about myself when she told me a story about how she always spilled on herself. Even when the employees in her (work) kitchen gave her an apron, she still managed to drop sauce down the front of her, under the apron.
This would bring me to discuss the atmosphere. It was lively, friendly and a good time was being had by all. Definitely a place where you can bring the family. It reminded me of Pac Bell in the sense of the mix of people, only these folks were all united in various Mets jerseys. The whole stadium feel had a good vibe. Especially when they broke into collective cheers calling for the Apple (which neglected to pop up a second time in the 7th inning after Fernando Tatis hit the second Mets HR in the inning.)
Take a gander at the failed HR apple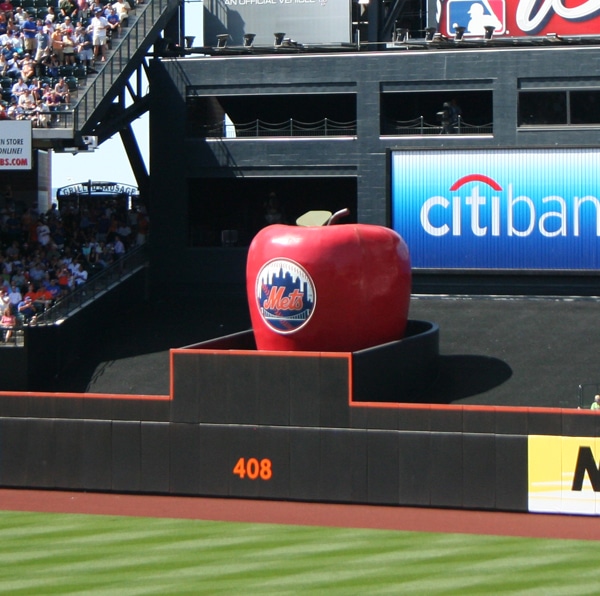 They also had just enough concourse activities (like the dunk tank–awesome idea) to make the stadium a fun place without taking away from the fact that one is there to watch a baseball game. The open-air styled concourse totally adds to the good atmosphere.
Also earning points would be the scoreboard/jumbo-tron is also nice. They essentially have two– one in left center and one in right center so that the people in the outfield can see at least one of them. Huge plus. Citi Field also gets points for posting out of town scores and their minor league teams' scores. Since I didn't have a computer with me, I appreciated knowing that the Brooklyn-Staten Island game was still 0-0 in the 3rd.
Overall, this is one of my new favorite stadiums. I'm talking a top 5 ranking. And not just because DWright had two hits and a RBI. Although that was pretty awesome too.