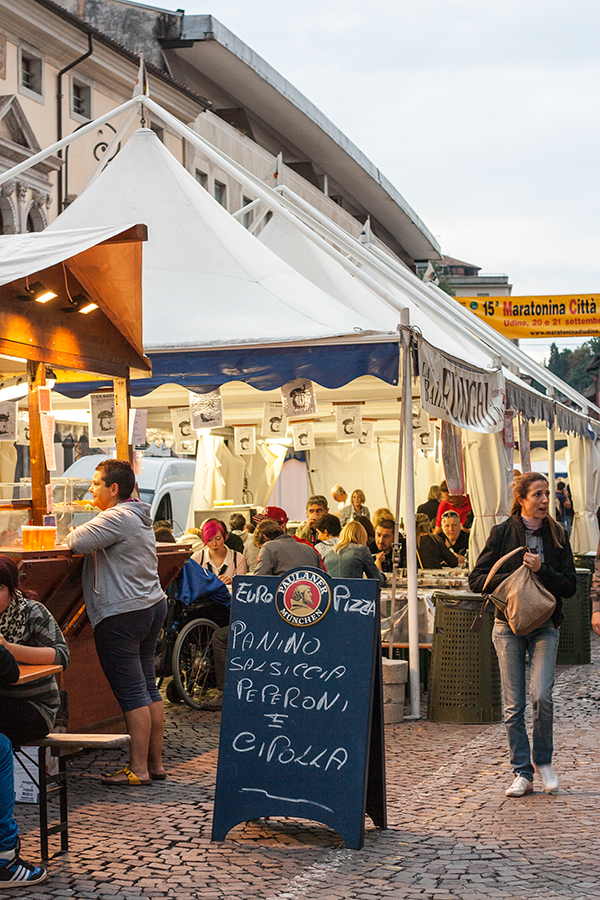 This weekend was Friuli DOC, la più grande rassegna enogastronomica regionale, or, "the largest food and wine festival in the region" and we'd been looking forward to this since we'd heard about it months ago. We didn't, however, have any idea it would be as large as it was! Shame on us for underestimating! Each major street in and around the center of town was lined with vendor tents, each offering regional cuisine or regional products like honey, cheeses, wine and other homemade goods, like wooden products and craft items.
I was floored at the expanse of it!
It began on Thursday afternoon and ran until Sunday night and we took full advantage. I haven't cooked a meal since Wednesday! We walked down to the festival each evening and were treated to some of the best Friuli had to offer, including the most delicious pumpkin gnocchi with a brown butter-sage sauce. Another evening we had pasta — Dave's with trout and dill over farfalle and mine, a carbonara of sorts, with prosciutto of San Daniele (another type, different from Parma, which is what most Americans are probably familiar with) and a sprinkling of poppy seeds.
There were cones of patate fritte (French fries) and local wine varieties like schioppettino (my favorite to pronounce) and ribolla gialla, and of course, as much polenta as anyone could ever want. We also tried cjarsons which are like ravioli, from a mountain area of FVG called Carnia. They were more sweet than savory, stuffed with a prune sauce (think apple sauce, but with prunes) and sprinkled with cinnamon and sugar. Frico was also plentiful ("frico" is a staple in the Friuli-Venezia Giulia region; it's almost like a grilled or fried cheese, and I prefer mine with the hash brown-style potatoes they sometimes mix into it!) as was artisan beer, so Dave was a happy camper.
We did our best to explore each section of the event, stopping for bites whenever we couldn't resist the aromas any longer. We even weathered the rains as best we could. Friday night, we had planned a "tapas-style" game plan— sharing just one dish at each vendor that looked tempting and making the rounds until we got our fill. It seemed like a good plan, since we started out with the pumpkin gnocchi, but the rains came around dinner time. We attempted to wait them out in one of the larger piazzas that had been tented, enjoying a glass of wine and listening to an Italian sing Bob Seger songs, but to no avail. The rains didn't relent and we had to head home.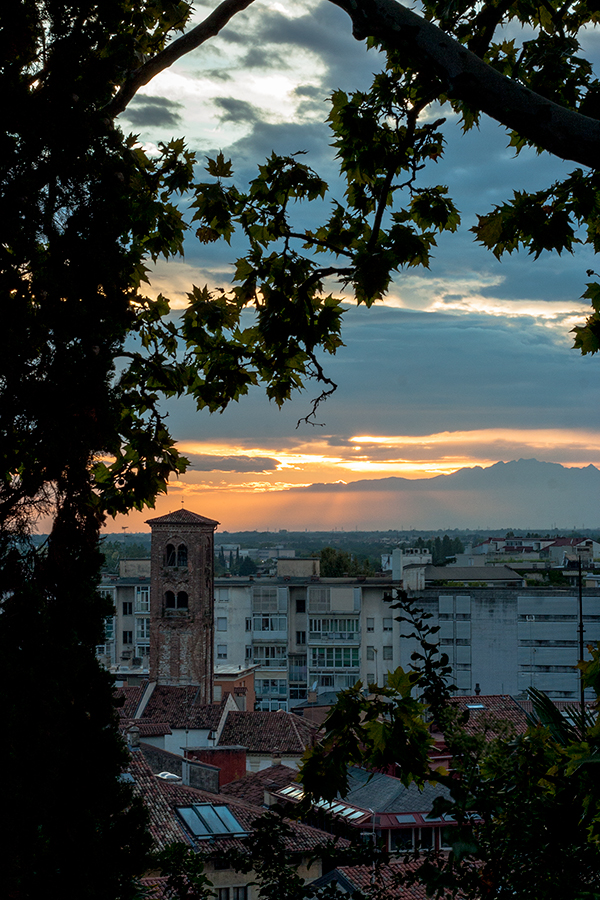 Sidebar: The festival had a ton of different stages and I got a kick out of hearing the Italian singers from each one belt out songs in perfect English, only to wrap each with a hearty "grazie amici!" in thick Italian accents afterwards. The best was Sunday night, when an Italian woman sang country music and a group of cowboy hat-clad audience members were line dancing. It was fantastic.
Looking to pack in as much as possible during the event, we packed the umbrellas on Saturday, this time making our way up to the castle grounds. The sky looked promising, with spots of sunshine peeking through breaks in the thick clouds. Everyone else had the same idea because Saturday late afternoon and evening was crowded! Families and groups of teens all hanging out, this was most certainly the event to attend. No matter, it turned out to be a nice (dry) evening and the sky provided a perfect backdrop. All of the food we tried was excellent, with a distinct feeling of 'homemade' in every dish. Although I will say one thing about Friulian food: it's not very photo-worthy. A lot of browns, oranges and yellows, while tasty, didn't make the photo cut, as far as my amateur eye was concerned! Still, the crisp weather of the weekend, painted with softer colors thanks to the rains of the day, made the festival the perfect way to kick off the harvest season.